Silver mirroring of a historical silver-gelatin photography
Silver mirroring treatment of a historical silver gelatine print of the American photographer Man Ray (Emmanuel Rudnitzky).
The silver mirroring of the silvergelatine plates and papers first appear on the edges as a shiny silvery coating in the dark areas. The silver grains migrated to the surface can cover entire parts of the picture, leading to a strong disturbance of the aesthetics of the picture.
Analog and digital restoration of a carte de visite
The Frenchman André Adolphe-Eugène Disdéri photographed Emperor Napoleon III in 1859 and made prints in the format Cartes de Visite. From around 1860, the portraits mounted on cardboard, which measured approx. 2.5" x 4", became very popular.
The gold-toned collodion photo layer is extremely lightfast, but highly scratch-sensitive. The Cartes de Visite card shot at the turn of the century was retouched in analogue as well as digitally processed and printed in double-size format with lightfast pigments in the same tonal values of the original photograph.
Restoration of a daguerreotype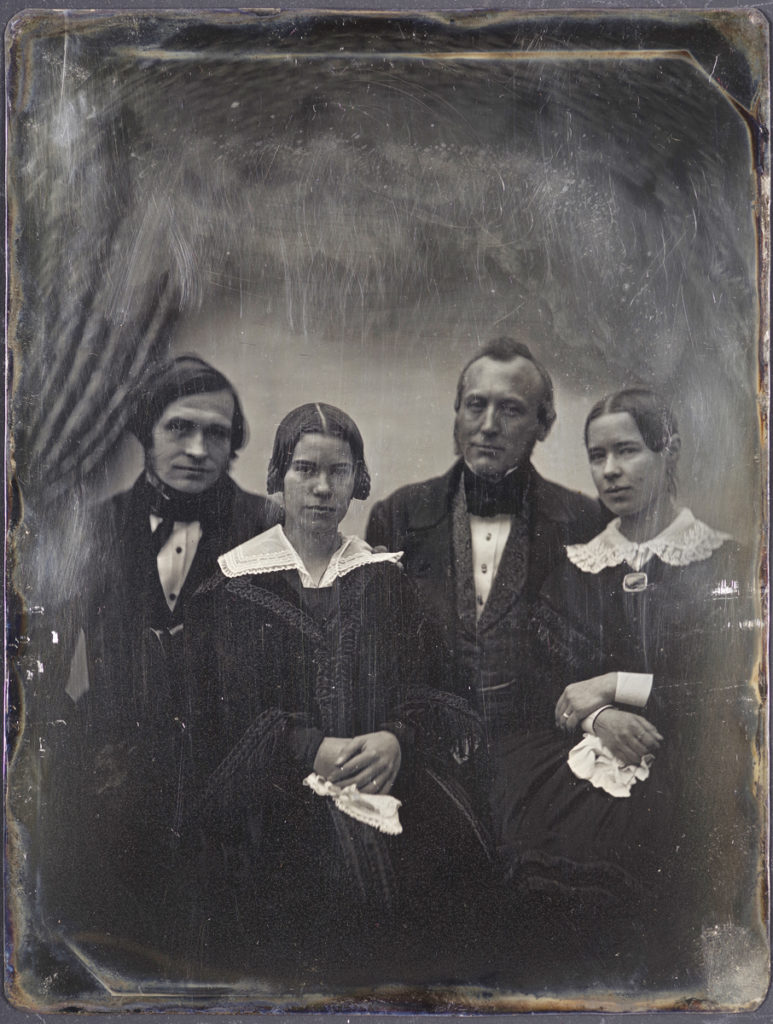 The first photographic process, named since 1839 after Louis J. M. Daguerre, was made with a silver-plated highly polished copper plate sensitized with iodine vapors and developed with mercury vapors. At a certain viewing and incident light angle, the negative image turns positive. These extremely touch-sensitive uniques must be mounted behind a passepartout or brass mask and sealed with a front glass for an air tight protection against oxidation. Tarnished daguerreotypes are restored by electrocleaning, their corroded slimy and with tiny droplets "weeping" cover glasses are replaced by stable borosilicate glasses, then airtightly sealed and placed in their original casing.
Restoration of an ambrotype from the mid-nineteenth century.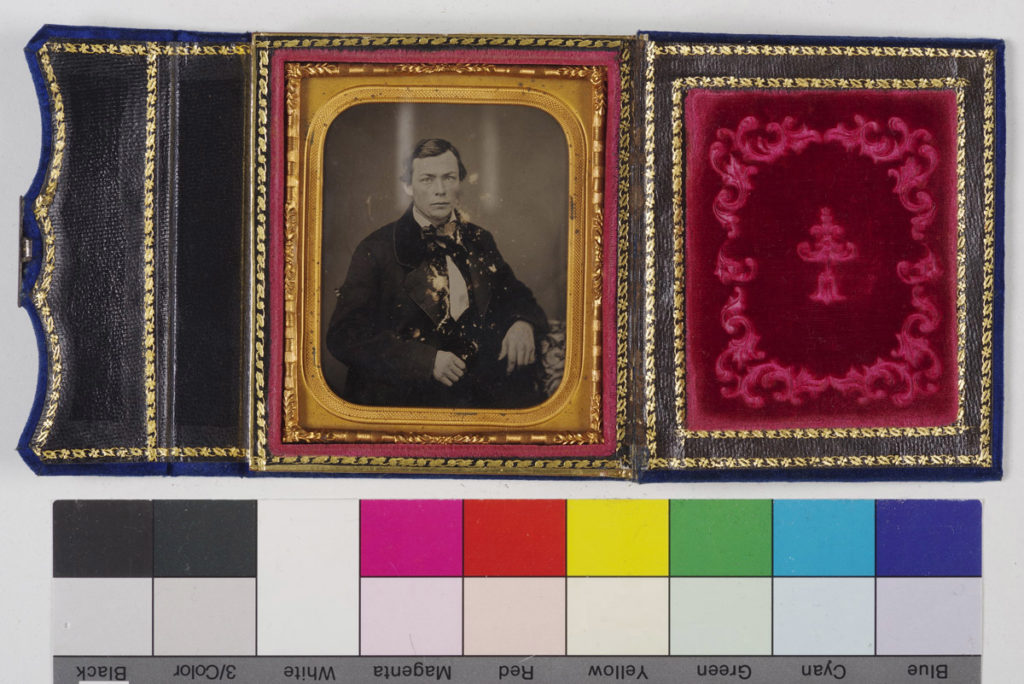 Ambrotypes are unique images on glass, produced by the process of wet collodion. The photography is both positive and negative. Positive appearance occurs when the creamy underexposed negative is placed on a black background or the glass plate is coated with black lacquer on its back. For their protection, this highly-scratch sensitive photographs should be mounted in special airtight presentation frames or casing.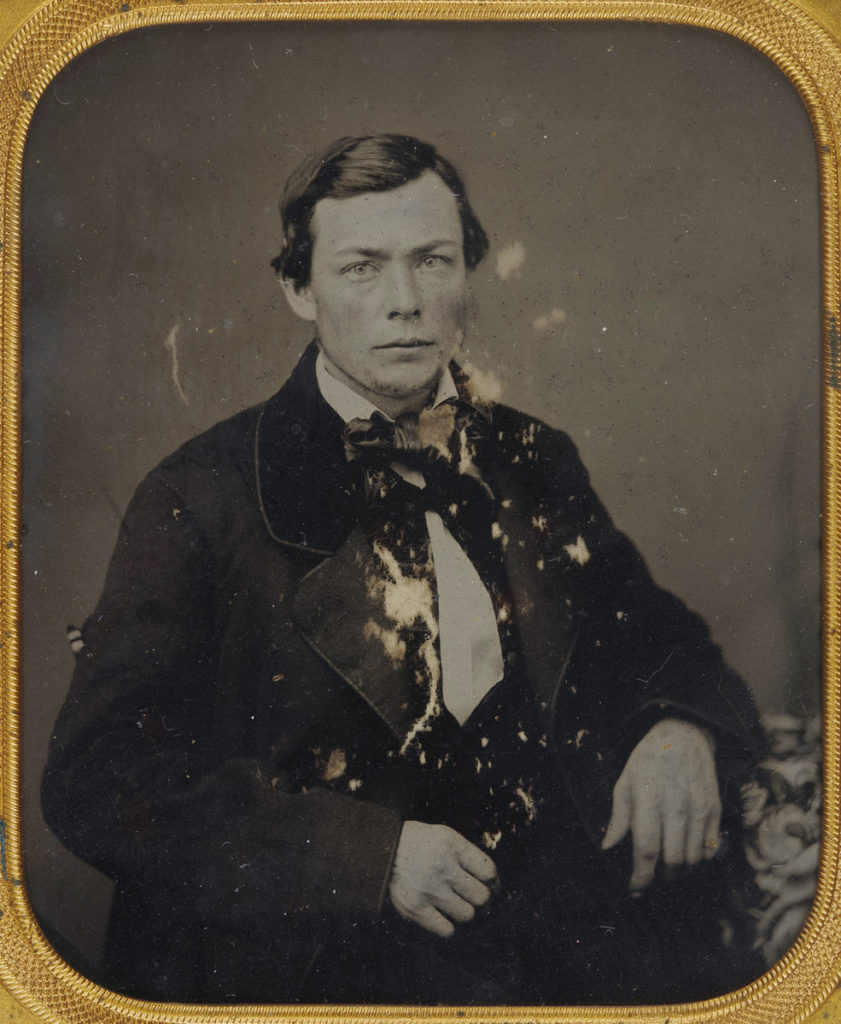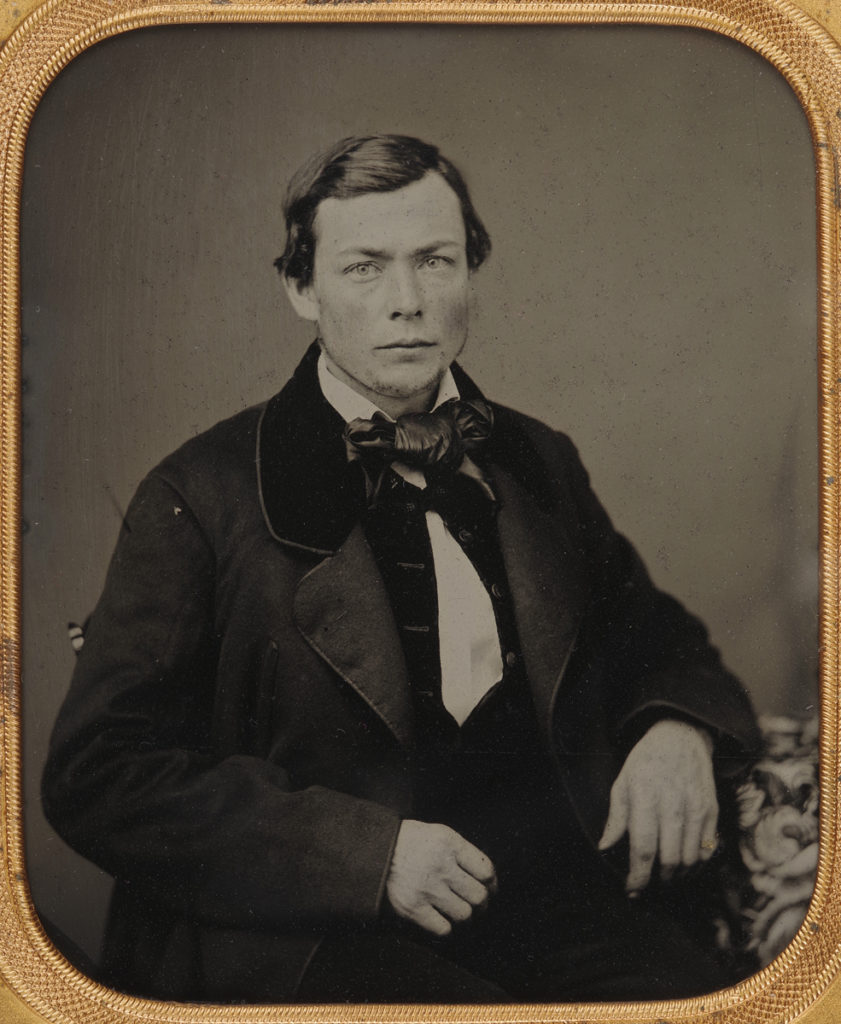 August Sander Photocollection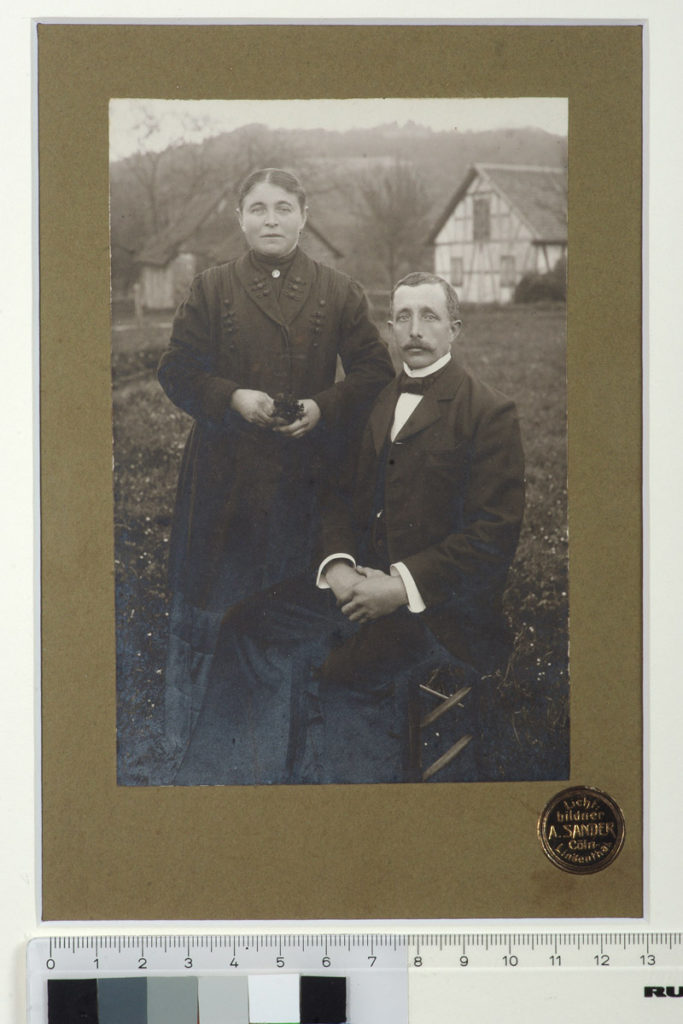 One of the first August Sander worldwide photocollections was created in the 70s. A part can be visited at the "Haus für August Sander" in the Westerwald, Germany; the region where Sander shot most of his portraits.
130 vintage prints were released from the collector's passe-partouts, dry and wet cleaned, hazardous adhesives and deposits were removed, digitized and restored into PAT (Photo Activity Test) certified envelopes.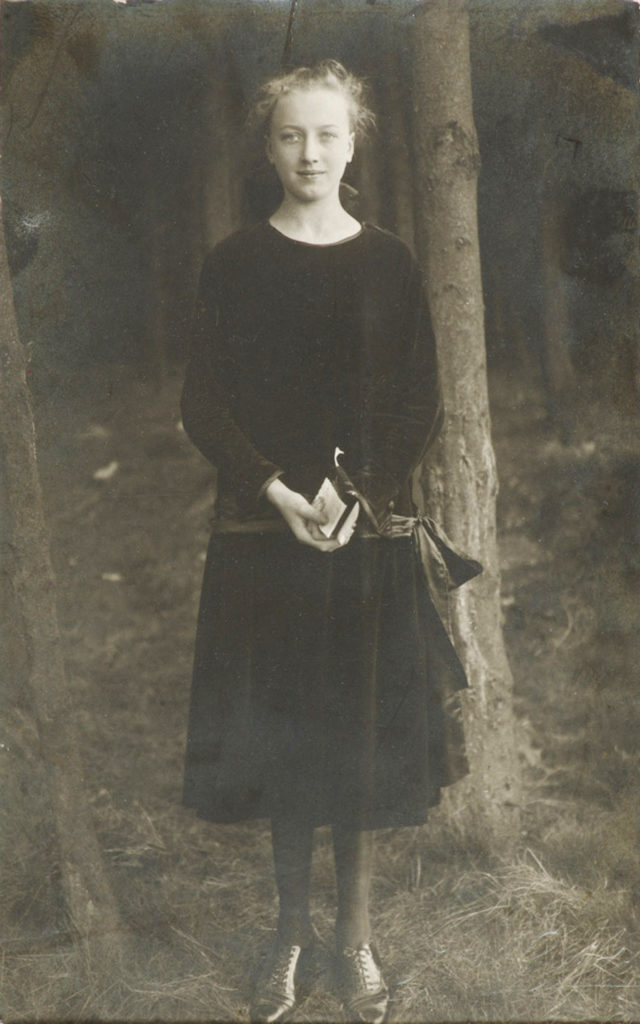 Museum digitization
By conserving not only paper prints, but also their negatives, they are archived digitally from both copies and their negatives. The tonal ranges, resolution and details in highlights and shadows in negatives are much more detailed than in prints, which is why double museum archiving makes sense. This is of particular relevance in color photographs, as their organic dyes of the emulsions fade rapidly as a result of hydrolysis. By digitizing color negatives and slides with 3 color lights (not white), original colors can be restored by working individually each of the color layers. This is done by concentrating on the primary spectra of each emulsion, regardless of their secondary densities that influence colors of the other layers.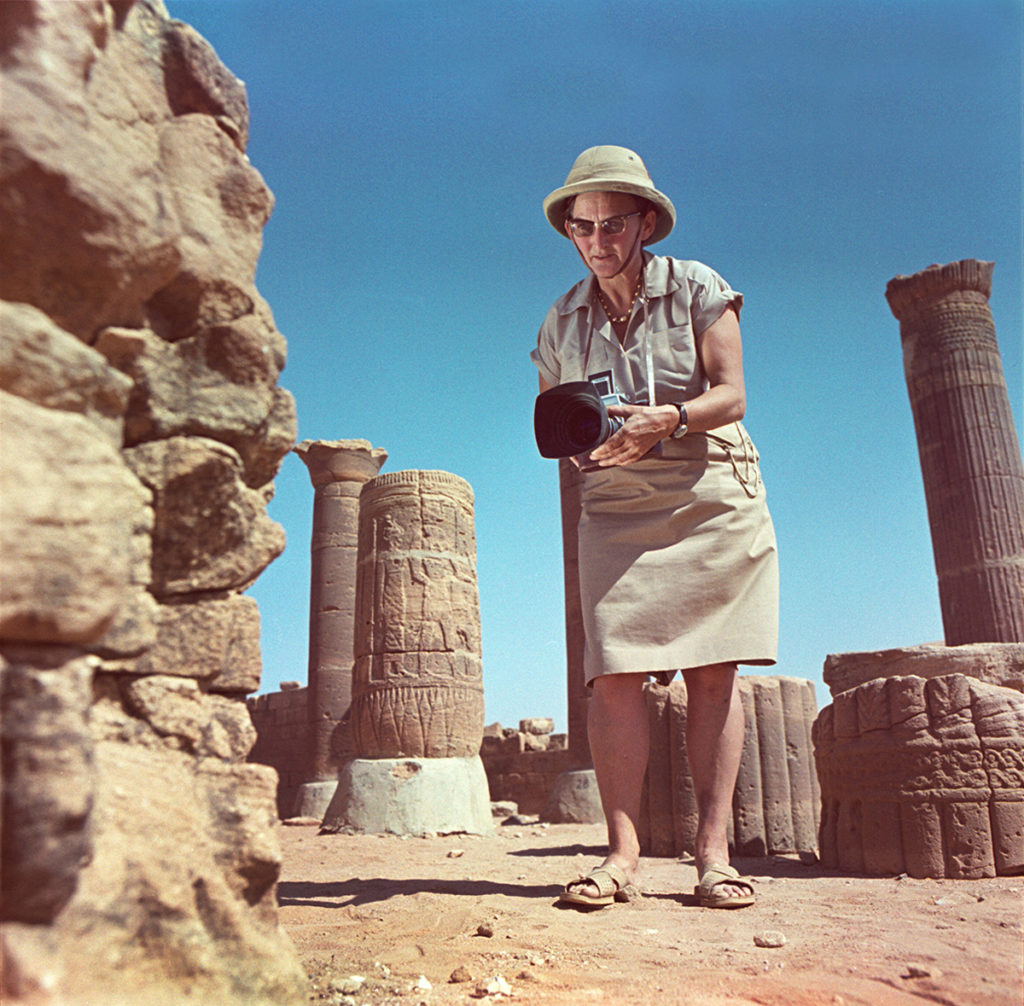 Flattening nitrocellulose sheet and roll films for digitisation
The first flat and roll films usually had no anti-curl layer on the back of the nitrocellulose film base. When the gelatine photo layer dries out & shrinks, great tensions arise that roll the film carrier tightly together. In addition, the rolled-up negatives are extremely fragile due to embrittlement of the nitro carrier.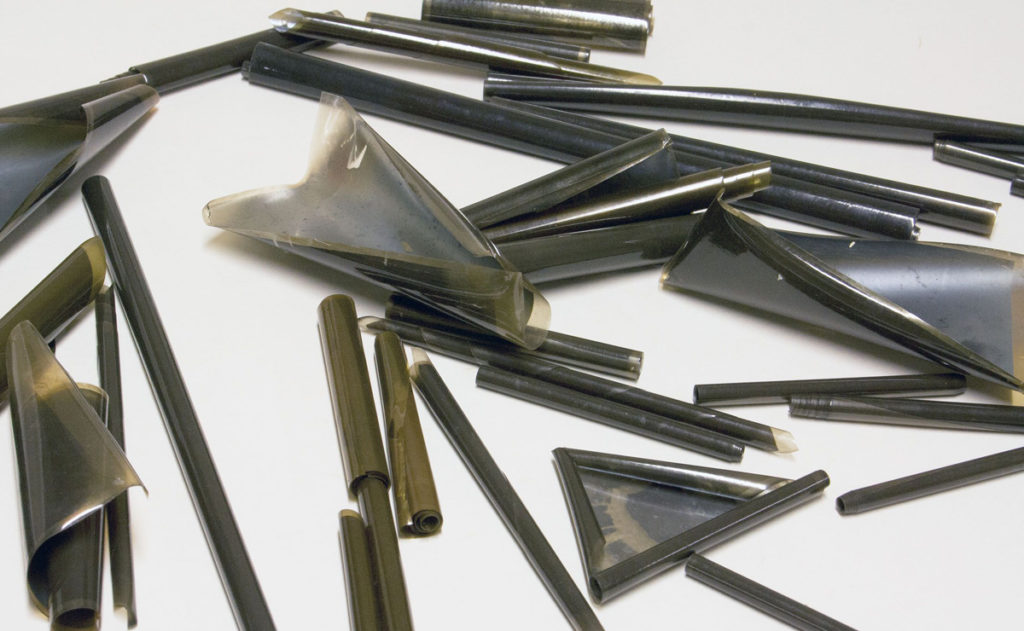 In order to lay them flat, the supports first had to be relaxed at low temperature using a softener.
Only in this way could the negatives (1897/1907) exposed on the Greek island of Kos by Werner Herzog's grandfather, the photographer, classical philologist and archaeologist Prof. Dr. Rudolf Herzog (1871-1953), be digitised.